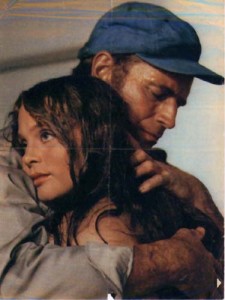 In early 1972 Guy McElwaine, my agent at CMA, called me at home in Santa Fe, New Mexico.  He was enthusiastic about me taking a role in an MGM movie called Soylent Green.  MGM, at the time was under the management of Jim Aubrey.  Guy told me Soylent Green had a science fiction theme and would be starring Charlton Heston and Edward G.  Robinson.  The money was good, and he felt it would be valuable to work for Aubrey, as well as with Heston.  I agreed.  It was more to simply work again and keep myself in the game of acting.  I was starting to feel that I was losing passion for my career, as I was awakening to a deep yearning to develop myself spiritually.  It was concerning me, as I almost felt disoriented now in the "Industry".  I didn't judge it, I simply felt uncomfortable and overcome with a sense of hunger for more understanding of my life, and life itself.  A lot of things didn't make "sense" to me.  This had always been the case, but now I felt urged to actively seek answers.  I took Soylent Green as a way to stabilize myself and to see where I was in terms of my career as an actress in Hollywood.
Richard Fleischer was our director.  He and Heston appeared close.  Both were relatively cool toward me, but in fact I was dealing with my own sense of fragility which proved to be perfect for my performance of "Furniture".  It's odd how often certain roles provide the opportunity to pull from a timely emotional state.  I have often used my roles to open up a part of myself that needed to flow.
My sweetest memory of this movie was working with Edward G.  Robinson, or "Eddie".  It would prove to be his last movie.  He died only several months after we finished filming.  He was very short, and I was very tall.  Of course my height was aided by my 4 inch platforms of that time.  I remember our final photo shoot with Charlton Heston, Chuck Conners, Eddie and me.  Eddie snuggled up under my breasts, put his arm around my waist, looked up and said, "I am standing here!" In the midst of his mischief with me, was a precious and sensitive regard.  At the cast party, he wanted me to sit next to him.  It was the last time I would see him.  I cried driving home that night, so touched by his refinement and kindness.  He was an oasis.
I did not believe that Soylent Green would be very successful.  It was about a dark time in our future when the environment would be destroyed by human greed, and people would be eating people to survive.  I thought it was a stretch and a bit of a folly.  Soylent Green today is seen as a highly regarded cult film.  Eddie Robinson's death scene, is one of the saddest and most poignant on film.  A week after I completed the film, I was on a plane to India and an Ashram in the Himalayas where a new chapter of my life would soon open.
 
 
Soylent Green on IMDB
 
---